Dear readers,
We are glad to announce the launch of our new website,
https://uk.webfg.com
. There you will continue to have access to the full content of the Sharecast newswire, alongside an improved and expanded suite of market data and research tools for both the UK and the main international markets. As a first step in the transition to the new site, over coming days and weeks the news and data pages on Sharecast.com will redirect you towards the new website which we earnestly hope you will find even more useful than the current service. Should anyone like to comment or provide constructive criticism on the new layout or what features they would like to see added or deleted, do please send us an e-mail to
info@digitallook.com
. Lastly, of course, we wish to express our heartfelt gratitude for your support and encouragement over the years as we continued to grow and expand the service.
Very best,
Sharecast
CAC 40 Constituents Share Price. CAC 40 Stock Quote. CAC 40 Charts
CAC 40 QUOTE
CAC 40 (PARI)
4,786.17
Chg.%: 0.4917% Chg.: 23.4200 Time: 18:00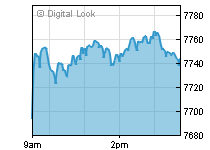 ► Composition
No data Available