Market Buzz
AB Foods valuation 'attractive' on sugar and Primark upturn, Jefferies says
Thu, 13 April 2017
Associated British Foods Quote
more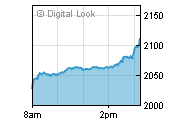 Price: 3,219.00
Chg: 11.00
Chg %: 0.34%
Date: 16:35
FTSE 100 Quote
Price: 7,310.64 Chg: 46.74 Chg %: 0.64% Date: 16:59
(ShareCast News) - Shares in Associated British Foods were given a boost by an upgrade from Jefferies to a 'buy' recommendation on the back of continued strength in its sugar business and an expected upturn in margins from its Primark retail arm.
The investment bank, which upped its target price to 3,100p from 2,450p, said interim results next Wednesday should confirm strong results with sales up 18% and earnings per share up 28% thanks to currency effects and a sugar rebound.

While expecting minimal Primark progress in the first half, Jefferies felt the key focus will be on Primark's future margin trajectory and itself forecast that by the 2018/19 financial year the fast fashion chain will enjoy an improvement of 100 basis points to 10.4% from the 9.4% trough in the current year.

"Evidence of price recovery is starting to come through in Germany, and we expect this to extend to the UK by Autumn/Winter 2017. Our proprietary pricing shows remarkable price discipline at Primark UK despite the pain from six-month sourcing lead times."

For sugar, analyst James Grzinic assumed up to £200m of operating profit can be defended post the quota removal in September 2017, as the slump in sterling has severely dented the competitiveness of French imports in the UK.

The analysts also suggested bumper year-end cash levels would support "as much as £3bn of M&A firepower" to boost future earnings, based on management's impressive recent track-record on M&A value creation.

Grzinic said Primark's valuation attractions were emerging, with calendar 2018 price/earnings ratio of less than 22 compared to the peak of around 40 times in late 2015, while its shares had a relative discount of circa 10% in the staples sector was close to the trough of the past five years.