Company News
Asda stopping the rot as sales improve for third quarter
Thu, 18 May 2017
Wal-Mart Stores Inc. Quote
more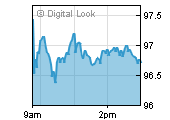 Price: 80.01
Chg: -0.49
Chg %: -0.61%
Date: 15:59
S&P 500 Quote
Price: 2,500.60 Chg: -6.05 Chg %: -0.24% Date: 16:15
(ShareCast News) - Asda's like-for-like sales continue to decline in the first quarter of the year, though US parent company Wal-Mart saw improvement in the underlying business.
The UK grocer saw LFL sales drop 2.8% in the three months to 31 March even as total net sales improved 0.9%.

This was an improvement in LFL revenue from the 2.9% fall in the fourth quarter of 2016, the 5.8% slump in the third and the record 7.5% tumble in the second quarter.

Commenting at the announcement of Wal-Mart's earnings on Thursday, group chief financial officer Brett Biggs said when normalising for the effects of the leap year in 2016 and a later Easter in 2017, Asda was showing sequential improvement in the underlying business, including customer traffic and ticket.

"We're confident we're on the right track," he said.

In fact more timely industry data from researchers at Kantar Worldpanel found that in April Asda increased year-on-year sales for the first time since October 2014, up 0.8% though its overall market share continued to fall, down 0.4 percentage points to 15.6%, having been above 17% two years ago.

Asda chief executive Sean Clarke, who was shifted over from Wal-Mart's Chinese business last summer, said: "We're pleased that the momentum of Q4 has continued into the New Year with a third consecutive quarter of improvement."

But he said "we are in no way complacent and there is still much for us to do".

He said that Asda's offer was now more consistent in fresh food, customer service and stock availability in stores and online.

"Participation in our award winning Own Brand ranges has increased as we focus on increasing its value and quality and make sure we are offering the right ranges for our customers. We were pleased to receive industry recognition for these ranges and our online service in recent weeks."

Parent Walmart, meanwhile, reported a 2% improvement in diluted earnings per share on revenue up 1.4% to $117.5bn.

President and CEO Doug McMillon said he was encouraged by the "solid" quarter, with the retailer now "moving faster to combine our digital and physical assets to make shopping simple and easy for customers" as it deals with a retail market where the once dominant gorilla is now only half the size of new silverback Amazon.

US LFL, or 'comp', sales were up 1.4%, driven by a traffic increase of 1.5% as e-commerce growth was strong as sales and
gross merchandise volume (GMV) increased 63% and 69%, respectively.