Company News
Ashtead slips on read-across from United Rentals
Thu, 20 April 2017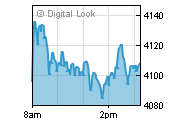 Price: 1,785.00
Chg: 2.00
Chg %: 0.11%
Date: 16:54
FTSE 100 Quote
Price: 7,310.64 Chg: 46.74 Chg %: 0.64% Date: 16:59
(ShareCast News) - Equipment rental firm Ashtead retreated after results from US peer United Rentals showed rental rates were under pressure in the first quarter.
United's operating profits were almost 2% short of Wall Street expectations, with rental rates down 1.4% year-on-year.

Encouragingly, rental volume rose 7% and a positive 2017 outlook was given.

UK rival Ashtead, which generates a large proportion of revenues from its US-based Sunbelt arm, hit an all-time high last month, supported by US President Donald Trump's pledges of significant investment in infrastructure that underpin management's 2021 growth plans, while a mooted reduction in corporate tax rates would also be a positive for the US business.

Analysts at RBC Capital Markets noted on Thursday that Ashtead has "considerably stronger growth momentum" from Sunbelt, continues to push up margins and has much less exposure to oil and gas and no material exposure to Canada.

Jefferies said they believed the macro backdrop remained supportive for equipment rental, with the American Rental Association forecasting 4.3% 2016-20 US rental market compound annual growth, supported by Dodge's construction firm confidence index being at eight year high, with continued non-residential construction growth and sustained energy sector activity recovery.

But Jefferies highlighted potential delays in US infrastructure stimulus and tax cuts, with United Rental's stock having fallen around 16% from its March high, as "expectations on timelines for changes to US corporate tax cuts and increased infrastructure spending have moderated with potential delays".

With Ashtead next reporting on 13 June, with fourth quarter full year results, RBC expected a continued positive growth message alongside an announcement on a capital returns strategy - calculating there is an implied £1bn available to return "if management remain comfortable with the cycle".