Market Buzz
Asset sales, cash calls still possible at Tullow, Canaccord says
Thu, 18 May 2017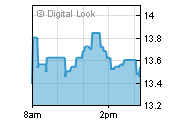 Price: 164.80
Chg: 7.70
Chg %: 4.90%
Date: 14:19
FTSE 250 Quote
Price: 19,536.34 Chg: 91.45 Chg %: 0.47% Date: 14:20
(ShareCast News) - Canaccord Genuity trimmed its target on shares of Tullow Oil after revising its short-term 'price deck' for the price of Brent lower.
Analyst Charlie Sharp said the broker was now projecting Brent to trade at $55, $57.5 $62.5 in 2017, 2018 and from 2019 onwards, respectively.

That was down from forecasts for $57.5 and $62.5, respectively, beforehand.

Those revisions offset news of the outfit's drilling success in Kenya with the Emekuya-1 well, which allowed it to extend the Greater Etom area of the south Lokichar basin.

"The Etom area is proving to be a good picking ground for additional resources in Tullow's Kenyan acreage (with a working interest of 50%), and with an extended drilling campaign and Early Oil Production (trucking of stored oil first, leading to trucking of 2,000 bopd from already drilled wells in Q4 '17), we expect further resource uplift and more 'hard' data to assist in the wider area development planning," Sharp said.

Estimating the appropriate value of that well was complex but the analyst raised his upside potential resource risking from 30% to 40%, boosting his estimate of the total gross risked resources available from that project to 1.5bn barrels, versus 930m previously.

Despite that, and his expectation for rising crude oil prices, Tullow's net debt would still be at 3.5 times EBITDA at the end of fiscal year 2017.

That compared to the company's target of net debt/EBITDA of 2.5.

"That suggests to us the need for further divestments - Kenya in 2018 is the most obvious although with the resolution of operational and territorial issues Jubilee and TEN would also be more saleable then, and if oil prices do not strengthen much over the next 12-18 months, potentially further equity raises."