Company News
Balfour Beatty swings to first half profit as bid approach yields results
Wed, 16 August 2017
Balfour Beatty Quote
more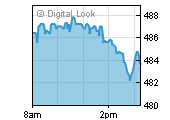 Price: 258.60
Chg: -0.60
Chg %: -0.23%
Date: 16:55
FTSE 250 Quote
Price: 19,566.42 Chg: 49.06 Chg %: 0.25% Date: 16:39
(ShareCast News) - Construction outfit Balfour Beatty swung to a first half pre-tax profit of £12m from a loss of £15m last year as its more selective bidding approach started to yield results.
However, chief executive Leo Quinn warned that Brexit and the weak pound it has caused were likely to reduce migrant labour at a time when a growing pipeline of major projects is likely to increase demand for skilled workers.

Balfour's order book was down 8% at £11.4bn, as the company changed its approach to bidding to cut risk. It won two contracts with its partner Vinci worth £2.5bn for the UK's second high speed rail line during the term.

Revenues rose to £4.2bn from £3.9bn.

Quinn said the company was on track to achieve industry-standard margins in the second half of 2018. The interim dividend was lifted to 1.2p a share from 0.9p.

Balfour Beatty - Build to Last is Here to Stay

Balfour Beatty reported an underlying operating profit of £39m for the first half (2016: £11m). The interim dividend rises 33% to 1.2p per share.

The shares rose 4.1% following the announcement.

Hargreaves Lansdown analyst Nicholas Hyett said the first stage Quinn's 'build to last' turnaround strategy was now complete and the group was focused on restoring margins "to something resembling the industry norm".

"Evidence at the half year stage suggests Balfour is making headway. Margins are heading in the right direction, and while the order book is shrinking, the group attributes that to being more selective in the projects it undertakes. Given that several of historic contracts have proven loss making, that's welcome," Hyett said.

"However, while the strategy is sensible and progress is being made, there's still some way to go before Balfour is in rude health - the final phase doesn't even get started until 2019. When it's all over, Balfour could prove a nice little earner for investors, for now though Build to Last is here to stay."