Economic News
Banks clamping down 'significantly' on credit card lending
Thu, 13 April 2017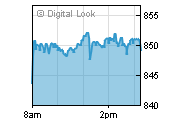 Price: 725.40
Chg: 5.50
Chg %: 0.76%
Date: 16:34
FTSE 100 Quote
Price: 7,310.64 Chg: 46.74 Chg %: 0.64% Date: 16:59
(ShareCast News) - UK banks have begun to clamp down on credit card lending as they "significantly" tighten credit scoring criteria over concerns about economic conditions.
A Bank of England survey found the availability of unsecured consumer credit fell slightly in the first three months of 2017 and is expected to decrease further in the second quarter.

Although demand for credit card lending from households was unchanged, lenders tightened scoring criteria in the quarter and said they expect to tighten them significantly further in the second quarter.

The BoE's Credit Conditions Review reported on Thursday that the lower availability of unsecured credit was the first decrease since the second quarter of 2010 and it is expected to shrink further in the current quarter.

Banks also saw a slowdown in the growth of business lending, which the report said was probably reflects some weakness in corporates' demand.

Demand for mortgage lending decreased in the first quarter, mainly from buy-to-let, followed by prime lending.

The BoE's Financial Policy Committee last month highlighted its concern over recent rapidly rising consumer credit, noting that high levels of household debt had begun to rise relative to incomes and, with consumer credit growing particularly rapidly, "could principally represent a risk to lenders if accompanied by weaker underwriting standards".

So Governor Mark Carney and the FPC will be pleased that lenders are tightening credit scoring criteria, said economist Howard Archer at IHS Markit.

"If the fundamentals for consumers do weaken further as expected over the coming months, it is vital that banks adopt tight lending standards in granting unsecured consumer credit, or it risks causing serious debt problems for the economy.

"This would be reinforced if the Bank of England felt compelled to raise interest rates due to mounting concern over the potential inflation overshoot."

Analyst Nicholas Hyett at Hargreaves Lansdown said the release was also unlikely to be helping bank shares.

"Unsecured consumer credit is a pretty high margin business for banks, so less lending here will result in lower overall margins at the group level."

By mid afternoon, HSBC was down 1.9%, Royal Bank of Scotland 1.7% lower and Standard Chartered off 1.6%, though Lloyds was 0.3% higher.

Lower Gilt yields, in the wake of US President Donald Trump's new support of low interest rates, was another factor to be taken into account.