Company News
Barclays first quarter profits soar to £1.68bn
Fri, 28 April 2017
Article viewed 1491 times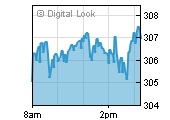 Price: 191.55
Chg: 1.15
Chg %: 0.60%
Date: 17:14
FTSE 100 Quote
Price: 7,310.64 Chg: 46.74 Chg %: 0.64% Date: 16:59
(ShareCast News) - First quarter pre-tax profits at Barclays more than doubled to £1.68bn from £793m, beating analysts expectations as the bank said its restructuring plan was nearly complete.
The numbers were boosted by strong core results, where pre-tax profits increased 20% to £1.92bn, and a materially reduced drag from non-core operations, which reported a loss before tax of £241m against £815m for the first quarter of 2016.

Increased income and a reduction in operating expenses delivering an improved cost: income ratio of 62% compared with 76% in 2016. Total income rose to £5.8bn from £5.0bn.

The result comes despite a one-off goodwill impairment charge of £884m on the company's stake in Barclays Africa Group, which it is selling in the next two to three years.

Chief executive Jes Staley, who is under investigation for trying to find the identity of a whistleblower within the bank, said the results were a reflection of Barclays' plan to focus on UK and US operations.

"We are now just two months away from completing the restructuring of Barclays as a transatlantic consumer, corporate and investment bank, and there is further good reason in this quarter's performance to feel optimistic for our prospects," he said.

Despite the bumper profits, Staley's run in with financial regulators has fuelled a shareholder revolt with proxy adviser group Institutional Shareholder Services (ISS) recommending abstention on the vote to re-elect the CEO until the regulator's investigation is complete.

That is not the only official inquiry the bank has to worry about. In its results Barclays quietly mentioned there were still "certain legal proceedings and investigations relating to legacy issues" outstanding.

It cited as an example the UK Serious Fraud Office's plan to make a decision shortly over its 2008 capital raising where it went cap in hand to Middle East investors to avoid falling into state ownership during the bank industry-triggered financial crisis.

The SFO is trying to establish whether £2bn Barclays lent to Qatar was then returned to the bank as part of the £7.3bn bailout that kept the bank afloat at the time.

Barclays said the SFO's decision "could impact on the timing and/or outcome of other actions related to these capital raisings".

Nicholas Hyett, equity analyst at Hargreaves Lansdown said there were "signs of progress in the numbers".

"The wind down of the bad bank is approaching completion, cost control seems to be in hand, and the UK is showing resilience.

"However, there is disappointment too. Chief among them is the poor performance from the investment bank's markets division, which saw income fall 4% compared with 9% growth at Deutsche Bank and a 15% rise among the big five US banks.£

"The Staley vision makes a trans-atlantic investment bank the second pillar of the Barclay's stripped down, two pronged approach. If that approach is going to deliver results, the bank really needs to show that it can keep up with the big boys and grab a slice of the action when times are good."