Market Buzz
Broker snap: Sovereign wealth funds eyeing miners
Mon, 05 October 2009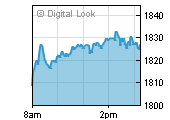 Price: 1,319.00
Chg: -10.00
Chg %: -0.75%
Date: 16:44
FTSE 100 Quote
Price: 7,285.74 Chg: -15.55 Chg %: -0.21% Date: 16:59
Miners feature prominently among the top performers Monday morning, helped by bullish comment from Royal Bank of Scotland (RBS).

RBS has adjusted its view of many of the sector's major players after rising upwards its expectations of metals prices. The bank also foresees sovereign wealth funds turning their attention to the sector.

The UK bank has turned upgraded Antofagasta from 'sell' to 'buy' while BHP Billiton, Rio Tinto and Vedanta are all moved up to 'buy' from 'hold'.

'BHP has been a top pick this year and should remain one of the most over-owned stocks in the sector through year end,' a note from the bank's broking arm said.

RBS reiterated its 'hold' rating for Eurasian Natural Resources but has raised its price target from 670p to 850p. Xstrata is rated a 'buy' but with a higher price target of 1200p, versus 1050p previously.