International
China looks to ban production of fossil fuel vehicles 'in the near future'
Mon, 11 September 2017
Ford Motor Co. Quote
more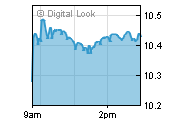 Price: 11.94
Chg: 0.10
Chg %: 0.84%
Date: 16:09
S&P 500 Quote
Price: 2,496.66 Chg: -3.94 Chg %: -0.16% Date: 16:15
(ShareCast News) - China has announced it is mulling over a ban on the production and sale of petrol and diesel based cars and vans from 2040 in an effort to boost the production of electric vehicles.
The ban would see China, the world's biggest vehicle market, follow in the footsteps of Britain and France, both of which had previously stated their intention to ban the manufacture of fossil-fuelled cars as they sought to reduce harmful emissions.

China's vice-minister of industry and information technology, Xin Guobin said in Tianjin on Saturday that the ministry had begun "relevant research" and was working on a concrete timetable for the policy's implementation "in the near future."

"The measures promote profound changes in the environment and give momentum to China's auto industry development," he told state broadcaster, China Central Television.

"Enterprises should strive to improve the level of energy saving for traditional cars, and vigorously develop new energy vehicles according to assessment requirements," remarked Guobin.

In 2016, China produced and sold in excess of 500,000 new energy vehicles, 50% more than it had done so a year earlier, and in June, the Chinese government drafted a regulation that would force vehicle manufacturers to produce more electrically powered cars by 2020 through an intricate quota system that would require all carmakers to produce a specific amount of NEVs or purchase carbon credits.

Volvo had already announced its plans to launch its first fully electric vehicle in China by 2019, and Ford, which was preparing its first hybrid car for the first half of 2018, said all of its new vehicles in the country would come with electric options by 2025.