Company News
Close Bros reports 'solid' Q3 loan book growth
Fri, 19 May 2017
Close Brothers Group Quote
more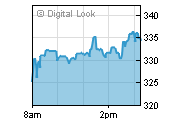 Price: 1,527.00
Chg: 0.00
Chg %: 0.00%
Date: 16:34
FTSE 250 Quote
Price: 19,517.36 Chg: 99.03 Chg %: 0.51% Date: 17:14
(ShareCast News) - Merchant bank Close Brothers reported "solid" loan book growth in its banking division in the third quarter to the end of April, as it said it remains confident of delivering a good result for the full year.
The loan book in the banking division was up 2.3% in the quarter and is up 4.1% year-to-date at £6.7bn, with continued strong returns. Meanwhile, the property finance business saw a particularly strong performance, with good loan book growth and strong profitability, the company said.

Retail Finance and Commercial Finance delivered more modest growth, however, as the company continues to focus on maintaining margins and prudent underwriting, which support its long track record of sustainable lending through the cycle.

The securities business, Winterflood's, saw its performance improve in the quarter as it benefited from continued high retail trading activity. However, Close Bros said it remains sensitive to any changes in market conditions.

Asset Management was boosted by strong net inflows and positive market movements, which helped to push managed assets up 7% in the quarter to £8.5bn, while total client assets grew 5% to £10.7bn.