Market Buzz
Credit Suisse boosts Bellway target price, still 'top pick'
Tue, 11 July 2017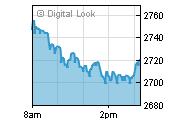 Price: 3,074.00
Chg: 23.00
Chg %: 0.75%
Date: 10:05
FTSE 250 Quote
Price: 19,560.15 Chg: 24.67 Chg %: 0.13% Date: 10:05
(ShareCast News) - Analysts at Credit Suisse hiked their target price on shares of Bellway, highlighting the company's improved guidance and its ability to increase its rate of completions still further thanks to strong demand for affordable housing.
Following the homebuilder's upwardly revised guidance for completions in fiscal year 2017, the Swiss broker reaffirmed the company shares as their 'top pick' in the sector.

In its latest trading update, Bellway boosted its forecast for the expected rate of growth in unit completions in 2017 from "in excess of 5%" to "approach 10%".

Should it beat that new target, it would mark its fourth consecutive year of double-digit volume growth, the broker said.

On that same occassion, Bellway also bumped up its forecast for its operating margins in 2017.

Credit Suisse believed the firm had the operational capacity to deliver more than 11,000 units per year, versus a run-rate for the current fiscal year of 9,593.

That led the analysts to project that the outfit's earnings per share would grow at an average rate of 15% between fiscal years 2017 and 2019.

They also called attention to the fact that the shares were changing hands at an 18% discount to those of its peers in terms of their price-to-tangible net asset value multiple.

Credit Suisse raised its target from 2,976p to 3,545p and stuck to an 'outperform' recommendation.