Market Buzz
Deutsche Bank downgrades United Utilities and Severn Trent to hold from buy
Tue, 16 May 2017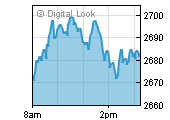 Price: 2,169.00
Chg: -39.00
Chg %: -1.77%
Date: 16:49
FTSE 100 Quote
Price: 7,263.90 Chg: -8.05 Chg %: -0.11% Date: 17:04
(ShareCast News) - Deutsche Bank downgraded its recommendations on shares of United Utilities and Severn Trent ahead of the 2019 price review.
Despite further increases in the share prices of UK water stocks year-to-date, on top of a decade-long bull run, that review would come increasingly into focus towards the end of 2017, the broker said.

Its analysts downgraded their view on United Utilities and Severn from 'buy' to 'hold', but left Pennon at a 'buy'.

However, they raised their targets on the former of those two from 1,000p and 2,300p to 1,050p and 2,450p, respectively.

Their target for Pennon was nudged higher from 900p to 920p.

Shares in United and Severn, Deutsche Bank said, also appeared to be at 'fair value'.

As for Pennon, there might still be scope for the Exeter-based company to reassure on the outlook for its Viridor unit.

Key in terms of the upcoming review would be the new political backdrop, with the focus for the 2020-25 price-setting excercise expected to be on affordability.

"Given that current regulation looks generous we forecast that returns will be cut back meaningfully and expect this to become clearer when OFWAT publishes its final framework proposals in December 2017."

Deutsche bank anticipated average book value returns would be reduced from a then current level of about 13% to 11% following the review.

Regulatory earnings yields would come down from 7.0% to 7.5% to between 6.3% per annum for United and Severn and to 6.6% for Pennon.

On the upside, the risk did exist of bids emerging for UK waters, Deutsche said.

However, investors might also overreact to signalled cuts in returns or begin to worry about dividends. Changes to inflation and bond yields were also risks.

In the case of Pennon, Deutsche Bank argued that: "While there are upside and downside risks we think that the positives are likely to come through at next week's results."