International
Europe midday: Gains for euro dampens demand for stocks
Fri, 19 May 2017
Banco Santander Quote
more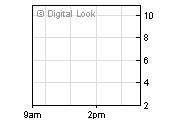 Price: 5.74
Chg: 0.05
Chg %: 0.81%
Date:
IBEX 35 Quote
Price: 10,305.00 Chg: 8.00 Chg %: 0.08% Date:
(ShareCast News) - Stocks are holding onto slight gains come midday despite another move higher for the single currency.
Against that backdrop, Greece was in the spotlight at the end of the week even as the angst around the political situation in the US over the past few days appeared to have calmed down, at least for the moment.

As of 1202 BST, the benchmark Stoxx 600 was up by 0.36% to 390.60, alongside gains of 0.13% for Germany's Dax which was at 12,606.98 and a rise of 0.70% for the FTSE Mibtel to 21.450.11.

"Equity indices are holding their rebound gains, albeit treading water since the European open, as investors weigh up recent market moves. Whilst not electing to take on more risk before the weekend, nor are they taking any more off the table. A positive statement in many ways, given the political headwinds in play," said Mike van Dulken, Head of Research at Accendo Markets.

In parallel, euro/dollar was wanted, rising 0.62% to 1.1170, with front month Brent crude oil futures gaining 1.33% to $53.22 per barrel on the ICE.

Overnight, the parliament in Athens approved the pension and tax cuts asked for by creditors before they released the next tranche of bailout aid and, perhaps, provided the country with debt relief.

However, while Greece's lenders had agreed to debt relief in principle, few details had been provided thus far.

Ahead of a meeting of Eurozone finance ministers on 22 May, Greek prime Minister Alexis Tsipras said: "We deserve and we expect from Monday's Eurogroup a decision regulating debt relief which will correspond to the sacrifices of the Greek people."

In parallel, investor sentiment around recent events on Capitol Hill appeared to have stabilised for the moment.

Craig Erlam, senior market analyst at Oanda, said: "Wednesday's sell-off may have shocked a few people but US indices remain in the same range they've traded in for the last few months and as long as that remains the case, it would suggest that investors are not too concerned."

The euro area recorded a record surplus of €34.1bn in March, according to the European Central Bank.

Factory gate prices in the Eurozone's largest economy advanced by 0.4% month-on-month in April with the annual rate of gains rising from 3.1% to 3.4% (consensus: 3.2%), according to the Federal Office of Statistics.

Still on the economic calendar for Friday were Belgian consumer confidence at 12:00 BST followed by euro area level figures for the same one hour later.

Stateside, the lone reference on Friday would be a speech from the president of the Federal Reserve bank of St.Louis, James Bullard, at 14:15 BST.

Spain's Banco Popular shot higher after El Confidencial reported that Santander had hired Citi to prepare a binding offer for the stricken lender.

From a sector standpoint, the biggest gains on the Stoxx 600 were being seen in Automobile (0.70%) and Basic Resource stocks (0.47%).

To take note of, Barclays reiterated an 'underweight' view on Saint-Gobain and an 'overweight' stance on SAP.

At the individual level, shares in Dufry AG shot higher on news that Richemont had acquired a 5% stake in the travel retailer.

Meanwhile, Eutelsat reached a deal with Abertis to sell its 33.69% stake in Hispasat for €302m.