International
Exane BNP Paribas downgrades BBVA
Wed, 15 February 2012
Banco Bilbao Vizcaya Argentaria Quote
more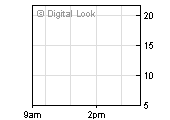 Price: 7.28
Chg: 0.06
Chg %: 0.86%
Date:
IBEX 35 Quote
Price: 10,273.40 Chg: -75.90 Chg %: -0.74% Date:
Analysts at Exane BNP Paribas have downgraded their recommendation for BBVA to underweight from overweight.

The analysts also lowered Bankia's price target from €3.30 to €2.

Digital Look has given its own views on both Spanish stocks and sees a bullish outlook for BBVA, but a bearish outlook for Bankia:

BBVA TECHNICAL OUTLOOK

We have seen a substantial improvement in BBVA's stock performance after breaking out of resistance at €7. That resistance level also coincided with the 200-day moving average and thus it is likely that we will see a change of trend.

For the short-term, we expect some price consolidation although the excellent accumulation levels lead us to believe that the gains will continue towarsd at least €8.

BANKIA TECHNICAL OUTLOOK

The stock chart for Bankia reveals a very bearish technical outlook as the stock fell below the support level at €3.50. That support level was the bottom part of a trading range in which it has been trading for several months. We now expect a return to the November low of €3.12."

"We do not expect any bullish signals as long as it trades below €3.63.


BBVA was up 0.36% to €7.15 while Bankia showed a 1.01% loss to €3.41 this morning.

MJ.J/C.N.