Market Buzz
Friday newspaper round-up: Dubai fall-out, Ofwat, LSE
Fri, 27 November 2009
Lloyds Banking Group Quote
more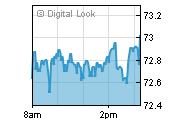 Price: 68.11
Chg: -0.58
Chg %: -0.84%
Date: 17:00
FTSE 100 Quote
Price: 7,452.91 Chg: -34.96 Chg %: -0.47% Date: 17:08
The FTSE 100 suffered its worst one-day fall since March closing down 3.2%. Companies with big Middle Eastern shareholders led the rout, on the back of concerns that high-rolling emirate Dubai would be forced to sell stakes to raise capital.

Barclays Bank tumbled 7.9% and the London Stock Exchange fell 7.4%. There were similar scenes across European stock markets with the French CAC-40 down 3.4p% and the German DAX index down 3.3%. In America, markets were closed for the Thanksgiving holiday, but electronic trading of the benchmark S&P 500 equity futures contract showed a potential drop on Wall Street of 2.2%, the Telegraph reports.

Millions of British households are facing rises of up to a third in their water bills over the next five years after Ofwat, the industry regulator, rowed back on its tough stance against the water companies. Worst hit will be the more than 14m households in England and Wales without a water meter. More than half a million unmetered South West Water customers can expect bills to rise by 29 per cent from £723 now to £935 by 2015. Its 1.1m customers with meters face arise of only 1%, to an average of £407, the Times reports.

Alistair Darling will admit in next month's pre-Budget report that the recession has been much deeper than he forecast in March, the Financial Times has learnt. The chancellor is expected to say that the economy contracted by 4.75% in 2009, shrinking at least one percentage point more than predicted in the Budget. But he will also say that the UK has at last turned a corner and is on the road to recovery, ahead of a probable general election in May.

The London Evening Standard, which went free last month in an attempt to lift revenues, has axed its early edition with about 20 jobs set to go. The 182-year old newspaper is to cease printing its "News Extra" edition, published at midday, and will print all 600,000 copies as the later "West End Final" from 4 January. The move is understood to have been accelerated by the closure of rivals thelondonpaper and London Lite, the Independent reports.

HM Revenue & Customs is to announce a last-minute extension to its tax "amnesty" for offshore savers in an effort to encourage more people to come forward. In a statement to be issued today, the Revenue will declare that savers have an extra five weeks to alert it to undeclared offshore accounts before its "new disclosure opportunity" (NDO) ends, the Times reports.

Lloyds' shareholders approved the world's largest ever rights issue – but gave the board a severe dressing down over its controversial takeover of HBOS. The banking group, which acquired the stricken lender in January, was seeking approval for a £13.5bn rights issue along with a £9bn debt exchange, with the aim of escaping the Government's expensive asset protection scheme (GAPS), the Telegraph reports.

A trading glitch halted trading on the London Stock Exchange (LSE) for three hours yesterday, highlighting the urgent need for an upgrade to its trading platform. It is the second time that trading on the LSE has been halted this fortnight and coincided with a huge sell-off in shares as investors fretted over the impact of Dubai's debt problems. The LSE purchased the Sri Lankan trading platform MillenniumIT in September to better compete with lower-cost rivals such as Chi-X and Turquoise. The exchange expects to switch to the new platform, which has already been adopted by Icap and London Metal Exchange, by the end of next year, the Times reports.

Five leading UK business figures have agreed to help the City regulator the FSA interview and approve directors and other top appointees at UK banks and insurance companies. The five are Sir Dominic Cadbury, the former chief executive and then chairman of Cadbury Schweppes; Baroness Hogg, non-executive chairman of 3i; Lord Marshall, former chief executive and then chairman of British Airways; Sir Brian Pitman, former chief executive and chairman of Lloyds TSB; and Sir David Scholey, former chairman and chief executive of SG Warburg, the FT reports.

Borders UK went into administration on Thursday, putting more than 1,000 jobs at risk, after the troubled bookseller failed to find a buyer for its store portfolio. MCR, the restructuring and insolvency company, were appointed by Borders UK management on The collapse of the high-street and retail park chain came a year to the day after Woolworths went into administration on November 26, 2008, the FT reports.

Inflexion, the private equity group, is set to load £13m ($21m) of debt on to FDM Group after it won backing for a 141p per share takeover offer for the IT training group. The independent board of FDM on Thursday backed a third offer, which values FDM at £33.3m, from an Inflexion-backed management team that includes Rod Flavell, chief executive, and Ivan Martin, former of head of banking at Misys, the FT reports.