Market Buzz
Friday tips round-up: Schroders, British Land, Fiderweb...
Fri, 05 August 2011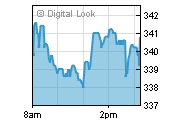 Price: 3,470.00
Chg: -42.00
Chg %: -1.20%
Date: 16:44
FTSE 100 Quote
Price: 7,516.17 Chg: -10.80 Chg %: -0.14% Date: 16:59
It appears institutional investors are willing to trust Schroders to look after their money in turbulent times. The blue-chip and blue-blooded fund manager yesterday reported a rise in assets under management to £204.8bn, which was ahead of most analysts' forecasts and was helped by net new business of £5bn. All the same, the company is still reporting healthy earnings – they rose to £215.7m from £188.2m a year earlier. In what we take as a good sign, this supported an 18 per cent increase in the interim dividend to 13 pence. This was a creditable set of results from Schroders, but we think there are better opportunities in the fund-management sector (for example Aberdeen, or Jupiter). As a result, we'd avoid these shares, suggests the Independent.

British Land has faced criticism of late with some shareholders worried that its management has spread itself too thin by carrying out footlingly small deals, such as last month's £180 million purchase of 17 Virgin Active racket clubs. This is after all a property company with a £5 billion market value, a £9.9 billion portfolio, and £2 billion of committed banking facilities. Not to mention £600 million of cash. But Chris Grigg, the former Goldman Sachs banker who heads British Land, reporting first quarter results yesterday, argues that his approach will deliver good returns. Shareholders who backed the group's £740 million rights issue in 2009 at 225p have now more than doubled their money. They should hold on for more — whatever size deals produce the goodies, recommends the Times.

Fiberweb, whose non-woven materials are used in everything from baby nappies to specialist industrial wipes, disappointed investors with news of a fall in first-half profits yesterday. The result was partly down to the pressure on margins, owing to what the company said was "a sharp increase in raw-material prices in the first half of 2011". Still, the company does deserve credit for partly mitigating the hit with operational efficiencies and by growing volumes. On the upside, Fiberweb did say that the costs are likely to be "fully recovered in the second half as a consequence of price increases" in its hygiene and industrial arms and as a result of increased hedging. In other words, things are likely to get better. Moreover, investors should note the thin valuation, with the stock trading on around six times forward earnings for 2012. The weakness presents an opportunity ahead of the expected recovery later this year, according to the Independent who suggests to buy.

Not too long ago, British defence industry chiefs were jostling to get as large a slice of the Pentagon's growing budget as possible. But even before this week's $2.5 trillion debt reduction package, the US military had begun the process of cutting back. Contracts have been delayed and there is uncertainty over the future of many big programmes. Cobham, which gets about half of its revenues from the United States, has already suffered. Revenues in the first half were down 7 per cent to £892 million and it has cut its full-year sales forecast. As an engineer, Cobham has proven itself an innovative and successful business. But it urgently needs to redirect some of that nous and energy into new geographical markets and products. If the US Treasury market starts to squawk again, the Pentagon cuts may have to go much deeper. Avoid, suggests the Times.

BC

Please note: Digital Look provides a round-up of news, tips and information that is impacting share prices and the market. Digital Look cannot take any responsibility for information provided by third parties. This is for your general information only as not intended to be relied upon by users in making an investment decision or any other decision. Please obtain a copy of the relevant publication and carry out your own research before considering acting on any of this information.