Economic News
Hospitals in England hit by cyber-attack against NHS
Fri, 12 May 2017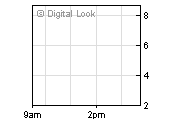 Price: 9.14
Chg: -0.05
Chg %: -0.52%
Date:
IBEX 35 Quote
Price: 10,292.10 Chg: 21.60 Chg %: 0.21% Date:
(ShareCast News) - NHS services throughout England were thrown into disarray on Friday when IT systems were disrupted by what is believed to be a large-scale cyber-attack.
Hospitals in London, Nottingham and Cumbria, among others, were simultaneously affected by the coordinated failure, with several reports of pop-up messages on computers demanding ransom money.

Cyber-security has become a significant issue in recent months and years as both states and private entities become more aware of tactics aimed to disrupt networks across the globe.

In a statement released by NHS Digital, it said that the attack was not only focused on the NHS and it was working with other affected organisations to identify the source of the issue.

"At this stage we do not have any evidence that patient data has been accessed. We will continue to work with affected organisations to confirm this.

"NHS Digital is working closely with the National Cyber Security Centre, the Department of Health and NHS England to support affected organisations and to recommend appropriate mitigations."

The ransomware attack involved a demand for affected users to deposit £230 worth of digital currency bitcoin in order to regain encrypted files.

Spanish telecoms giant Telefónica, the owner of O2, was also subject to a massive ransomware attack on Friday.

Employees at the firm's headquarters were instructed to shut down their computers when the attack materialised.