Market Buzz
HSBC optimistic on outcome of CMA review of Tesco/Booker tie-up
Wed, 12 July 2017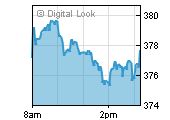 Price: 186.55
Chg: 0.80
Chg %: 0.43%
Date: 10:04
FTSE 100 Quote
Price: 7,273.79 Chg: -1.46 Chg %: -0.02% Date: 10:05
(ShareCast News) - HSBC sounded an optimistic note following the competition regulator's announcement that it had referred Tesco's acquisition of Booker for a Phase 2 review.
For starters, the companies themselves had asked for an accelerated move to Phase 2 by the Competition and Markets Authority.

More significantly, only 350 local areas were under scrutiny by the CMA, instead of the between 400 to 635 which had been bandied about in media reports.

In those areas there were 'symbol' stores, meaning establishments that might suffer from reduced competition or anti-competitive practices.

On top of that, the reasoning provided by the CMA was that Booker could reduce services offered to the symbol stores it was then currently supplying in order to send customers flocking to their nearest Tesco.

Yet previous reviews, such as those of Booker/Musgraves and Costcutters/P&H, had suggested barriers to customers switching were already low.

So the remedy measures finally required of Tesco and Booker might end up impacting fewer than those 350 areas, the broker said.

Its expectation was that the 24-week review might be wrapped up before Christmas, allowing the takeover to be completed by early 2018.

HSBC stuck to its 'buy' recommendation and 225.0p target on the shares.