Company News
ITV confirms swoop for easyJet chief McCall
Mon, 17 July 2017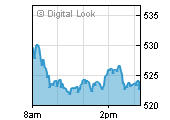 Price: 1,226.00
Chg: -2.00
Chg %: -0.16%
Date: 10:04
FTSE 100 Quote
Price: 7,273.79 Chg: -1.46 Chg %: -0.02% Date: 10:05
(ShareCast News) - ITV has poached Carolyn McCall from easyJet to be its new chief executive.
McCall takes the controls at the broadcaster after seven years at Easyjet, prior to which she was chief executive of the Guardian newspaper group.

ITV chairman Peter Bazalgette said: "In a very impressive field of high calibre candidates, Carolyn stood out for her track record in media, experience of an international operation, clear strategic acumen and strong record of delivering value to shareholders. I'm delighted we'll be working together at ITV."

For her part McCall, who will start work on 8 January next year, highlighted that she was moving into a "dynamic and stimulating sector" with "amazing opportunities" ahead.

EasyJet said the search for her successor has already begun, with the airline's chairman John Barton saying McCall had "built and led the management team that has transformed easyJet's performance in every respect since 2010".

He pointed to her focus on customers, saying she "redefined the customer experience" for the short-haul industry and saw loyalty grow as a result.