Company News
Japan quake could mean higher energy prices for UK
Mon, 14 March 2011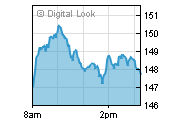 Price: 209.00
Chg: 0.50
Chg %: 0.24%
Date: 14:44
FTSE 100 Quote
Price: 7,471.75 Chg: 47.62 Chg %: 0.64% Date: 14:45
Friday's devastating earthquake and a second explosion at Japan's Fukushima Dai-ichi nuclear plant may send global gas and electricity prices higher.

Analysts at broker Matrix warn that Japan may lose at least 5% of its generation capacity permanently. This will be made up by gas fired power, requiring larger imports of Liquified Natural Gas (LNG).

LNG prices are already up and it's only a matter of time before that feeds through to the gas and electricity markets.

"While marginal on a world scale, there has already been a reaction in the gas market, and we would expect higher prices in the LNG market to have an impact in the UK, putting upward pressure on higher gas and electricity prices," Matrix says.

It also believes China could turn cautious on its ambitious five-year nuclear expansion plan, with work earmarked for potentially vulnerable coastal regions. If building slows, China will rely more on gas, putting further upward pressure on prices.

Matrix thinks higher gas price is best for Drax, less so for Scottish & Southern Energy, and "modest negative exposure" for British Gas owner Centrica.