International
JP Morgan's Dimon says his successor is already working at the bank
Wed, 13 September 2017
JP Morgan Chase & Co. Quote
more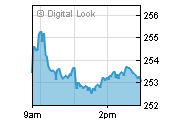 Price: 94.83
Chg: -0.20
Chg %: -0.21%
Date: 16:10
S&P 500 Quote
Price: 2,502.22 Chg: -6.02 Chg %: -0.24% Date: 16:15
(ShareCast News) - Jamie Dimon, the chief executive of JPMorgan said yesterday that his future successor was already working at the bank.
Speaking at the CNBC/Institutional Investor Delivering Alpha Conference in New York, the 61 year old said that the next chief executive officer would come from within the bank's executive ranks, and that they were already working at the lender.

The top remaining executives at the investment bank following multiple high-level departures over the past few years included CFO Marianne Lake, asset management chief Mary Callahan Erdoes, and investment and corporate bank chief Daniel Pinto.

Although there were several candidates among the top ranks who could succeed him immediately if needed, the appointed time may not come for another five years, Dimon said.