Company News
Legal & General Solvency II surplus capital increases
Fri, 19 May 2017
Legal & General Group Quote
more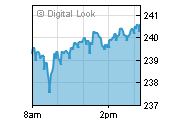 Price: 259.50
Chg: 0.60
Chg %: 0.23%
Date: 16:59
FTSE 100 Quote
Price: 7,310.64 Chg: 46.74 Chg %: 0.64% Date: 16:59
(ShareCast News) - Legal & General said on Friday that its Solvency II surplus capital has increased to around £7bn.
The insurer expects eligible own funds of around £14.9bn and a solvency capital requirement of around £7.9bn, giving a shareholder basis coverage ratio of 188%. At its full-year results, the company said its year-end 2016 Solvency II surplus was £5.7bn and the coverage ratio was 171% following a year of record new business including £7bn of new annuity sales.

The improvement in the surplus mainly reflects the sale of its Cofunds and Dutch business, the raising of debt and the surplus generated to date, offset by eight points from the payment of the final 2016 dividend.

Solvency II requires all insurance companies to hold a risk margin above their best estimate liabilities.

At 0853 BST, the shares were down 0.8% to 248.80p.