Company News
Lloyds to set up Berlin hub post-Brexit
Mon, 17 April 2017
Lloyds Banking Group Quote
more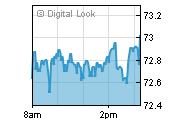 Price: 66.91
Chg: -0.54
Chg %: -0.80%
Date: 17:00
FTSE 100 Quote
Price: 7,310.64 Chg: 46.74 Chg %: 0.64% Date: 16:59
(ShareCast News) - Lloyds Banking Group will set up a new base in Berlin following Britain's departure from the European Union, according to reports from the BBC.
The UK's departure from the bloc has led to a reconsideration from many financial institutions about their approaches both within and outside Europe, due to the probable exit from the single market following Brexit.

The report suggests that the British bank's Berlin branch will be converted into a new European hub, while other locations including Frankfurt and Amsterdam were considered.



The loss of so-called passporting rights for banks has become a major issue following the vote to leave the EU in June 2016, with many multinational firms fearing they will be unable to maintain those rights after the Brexit process has been completed.

Several leading financial institutions have already indicated their plans to move operations away from London and the UK in general, including HSBC and Lloyds of London.

Lloyds' business is largely focused towards the UK market, but it does have several businesses in continental Europe, including a Dutch mortgage firm and German savings accounts.

The bank's Berlin offices currently employ 300 people, with more positions set to be created in the German capital.