Market Buzz
Ocado rallies on double upgrade at Exane
Mon, 19 June 2017
Article viewed 1187 times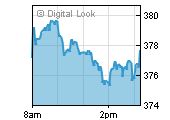 Price: 186.30
Chg: 0.25
Chg %: 0.13%
Date: 11:39
FTSE 100 Quote
Price: 7,541.17 Chg: 25.00 Chg %: 0.33% Date: 11:40
(ShareCast News) - Ocado got a boost on Monday as Exane BNP Paribas upgraded the stock to 'outperform' from 'underperform' and lifted the price target to 325p from 220p following last week's news that Amazon is buying Whole Foods Market.
"We remain of the view that Ocado is unlikely to be an acquisition target but we concede that the probability of an outright purchase has now increased."

More generally, the bank pointed out that for a US grocer looking at the prospect of Amazon materially pushing on in online food, then for all its many issues, Ocado is a business potentially ready and able to help leapfrog the competition.

"We will concede that valuing Ocado remains 'art rather than science' but on the basis that the shares respond to news flow rather than short-term earnings, we see the potential for them to move higher. If we are looking at multiples then if Amazon paid near 90% of sales for Whole Foods without a material online food business, 100% of sales for Ocado seems far too conservative. Raising that to 150% of sales takes out target price to 325p. Accordingly, we raise the shares to outperform."

In the same note, Exane highlighted Tesco's earnings recovery as potentially under jeopardy from Amazon. It argued that if Amazon did push on in the UK then it would be an earnings risk for all players, but Tesco's low margin and high leverage makes it especially vulnerable. As a result, the bank reiterated its 'underperform' stance on the stock.

On Friday, Amazon announced that it had agreed to buy Whole Foods Market for $42 per share in cash, in a deal valued at around $13.7bn.

At 0850 BST, Ocado shares were up 7.7% to 296.90p, while Tesco shares were up 0.2% to 171.35p.