Company News
Ocado surges on M&S tie-up report
Tue, 02 May 2017
Marks & Spencer Group Quote
more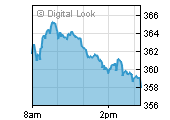 Price: 344.10
Chg: -3.90
Chg %: -1.12%
Date: 11:04
FTSE 100 Quote
Price: 7,275.45 Chg: 3.50 Chg %: 0.05% Date: 11:05
(ShareCast News) - Ocado shares surged on Tuesday following a report over the weekend that it could be eyeing a tie-up with Marks & Spencer, after chief executive Steve Rowe said last week that the retailer was considering options for a soft trial of food delivery in the autumn.
According to The Telegraph, Ocado and M&S are planning to begin talks in the coming weeks. It cited sources as saying that a review by Rowe was at a very early stage and the company was still considering a number of options, including partnering up with another operator or ditching the ideal altogether.

It was understood that M&S had been watching Morrisons' recent online overhaul. This has included striking a wholesale offer with Amazon Fresh and renegotiating its agreement with Ocado.

The Telegraph cited sources as saying it was unlikely that M&S would sign a deal with Amazon as there was little evidence that it had cracked the grocery market in the US or the UK.

Credit Suisse said a supply agreement similar to the Morrisons/Amazon deal is the best case scenario for both companies.

"M&S's range is too narrow and its basket size too small to offer a credible standalone online grocery service - a 'white label' deal (like Morrisons) does not make sense to us. However, listing M&S products on Ocado's website does," the bank said.

It pointed out that Ocado has high-quality distribution that would have an immediate impact on volumes, similar brand positioning and a broad enough range to bring basket sizes up to an economic level.

The bank said a tie-up with Amazon was less likely but not out of the question. It said that having discontinued general merchandise distribution with Amazon, it seems unlikely that M&S would re-engage with food.

"However, for Amazon, the potential to access a loyal and lucrative segment of the market may provide enough of a draw to offer lucrative terms to M&S. At the very least, M&S would be able to create pricing tensions between Amazon and Ocado to drive the best deal."

Credit Suisse said that assuming a supply agreement approach, it would expect Ocado to see volume growth after filling the only mass-market product gap in its offering.

At 0900 BST, Ocado shares were up 7.9% to 270.82p.