Company News
Pennon performing in line
Tue, 14 February 2012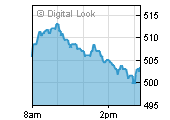 Price: 791.00
Chg: -1.50
Chg %: -0.19%
Date: 16:34
FTSE 250 Quote
Price: 20,259.77 Chg: 128.82 Chg %: 0.64% Date: 17:14
Water group Pennon said its overall financial performance since 30 September 2011 remains on track to meet management expectations after progress across all of its divisions.

South West Water continued its strong performance against the 2010-2015 (K5) regulatory contract, with capital investment up significantly from the previous year.

Viridor remains well positioned but full year profits are expected to be a little below those of last year after it experienced a reduction in recyclate prices over the winter months while a higher level of activity year to date led to an increase in bid costs.

Since October 2011 Viridor has secured a long-term pipeline of projects in Glasgow, Oxford and London. South West Water has recently signed a £60m facility with the European Investment Bank (EIB). This represents the second part of a £125m loan approved by the EIB towards K5 funding.

South West Water has also signed an additional £40m revolving credit facility and £140m of finance lease facilities, Pennon explained.