Company News
SSE making solid progress
Wed, 29 September 2010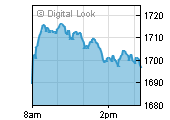 Price: 1,511.00
Chg: 3.00
Chg %: 0.20%
Date: 14:39
FTSE 100 Quote
Price: 7,471.75 Chg: 47.62 Chg %: 0.64% Date: 14:45
Energy supplier Scottish and Southern Energy (SSE) has assured the market it is on course to deliver on its pledge of above-inflation dividend increases.

The company has set a principal financial objective for 2010/11 of an increase in the dividend of at least two percentage points above the Retail Prices Index inflation rate while maintaining a dividend cover consistent with its established range, and said it is on course to meet this objective.

Prior to entering its close period on 1 October prior to announcing its results on 10 November, the company gave a quick round-up of progress on its major projects.

On the most advanced of the projects, the Clyde onshore wind farm, the first turbines have been delivered to the site and work on installation is due to start this autumn.

SSE is pushing for a Transponder Mandatory Zone over Clyde wind farm, in advance of the development of a new primary radar facility which will provide the necessary level of coverage for the wind farm. This process may delay the start of electricity generation at Clyde but it is still expected to take place in the early part of the new financial year.

Construction of the Griffin onshore wind farm is now underway. The wind farm is due to be commissioned in 2012.

The installation of all the 140 turbine foundations is now complete at Greater Gabbard wind farm and over 40 turbines are now in place.

It's a similar story at Walney offshore wind farm, where the installation of all of the 51 turbine foundations and transition pieces required for the first phase of the wind farm is now complete and 14 turbines have now been installed.

A cumulative total of around £1.3bn has been invested by SSE in assets which are still largely under construction at 29 September 2010 and therefore have yet to make any substantive contribution to earnings. This includes 1,000 megawatts of on- and offshore wind farm capacity currently under construction.

"We have made solid progress in recent months, but discipline in project assessment, development and execution remains paramount for the rest of this financial year and beyond," said chief executive officer Ian Marchant.