Market Buzz
Sunday share tips: LSE, Glenstrata, Direct Line
Sun, 07 October 2012
London Stock Exchange Group Quote
more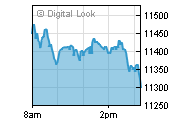 Price: 3,878.00
Chg: -42.00
Chg %: -1.07%
Date: 16:39
FTSE 100 Quote
Price: 7,523.04 Chg: -19.83 Chg %: -0.26% Date: 16:54
Daily trading volumes on the London Stock Exchange fell by a fifth over the summer, hitting revenues at the 211-year-old City institution. Not so long ago this would have posed a serious threat to the group's full-year profits but, thanks to a programme of diversification led by chief executive Xavier Rolet, the future remains bright for the LSE. The company's decision to diversify away from cash equities has impressed investors, pushing the group's shares up a healthy 22% so far this year. Like most financial services providers, the LSE faces regulatory challenges with new European capital rules threatening to impact the business. The LSE said LCH.Clearnet will have to increase its regulatory capital by between €300m and €375m if the new recommendations are adopted in their current form. The LSE is likely to have to foot part of the bill. On the other hand, regulation forcing all "over-the-counter" derivatives on to exchanges and clearing houses will benefit LCH. The LSE remains on course to improve its revenues, profits and dividends over the next few years despite tough market conditions. The LSE remains a buy for any ambitious investor, The Sunday Telegraph´s Questor team says.



The sell-off of Royal Bank of Scotland's Direct Line Group insurance arm is the biggest share offer for some time and has set many investors' pulses racing. But they should beware of being swept up in the deal. The group will be valued at about ten times past earnings and about nine times forecast earnings. This puts it in the same range as rival insurers such as RSA, owner of the More Than brand. Direct Line's plan is to pay between 50% and 60% of annual profits in dividends. This means that based on the 177p mid-price, a dividend of about 10p gives a yield of about 6%. This is good compared with most of the stock market, but is not exceptional for an insurer. After paying owner RBS a £200m dividend last month, Direct Line Group's net tangible assets are worth about £2.3bn, or 155p per share. So the mid-range of the offer price amounts to a modest premium to the value of its net assets. In comparison, RSA is valued at about 1.7 times its net tangible assets. So on balance Direct Line looks to be valued at a slight discount to its peers. Finally there is the Competition Commission, which has just begun an investigation into the motor insurance industry. The valuation is on the modest side, as one should expect from an initial public offering, but if shares are priced at the higher end of the range, then that discount will be reduced. Finally, there is the overhang of shares. Even after this sale two-thirds of the company will come to market in the coming two years. For the time being, these are shares to avoid, says The Financial Mail on Sunday´s Midas column.

Much has been made of the global powerhouse that the £50bn merger between Glencore and Xstrata would create, assuming it goes ahead. Nevertheless, there are multiple risks, not least the company´s sensitivity to metals´ prices or its high financial leverage. Speculation is also mounting that a merged firm would make a tilt at fellow miner Anglo American. That sort of aggressive strategy could bring great rewards, but also carries significant risk. Underlying all of this is the unspoken and intangible risk that so much of the City wants this deal – and the advisory associated fees – that analysts have merely smiled and nodded rather than engaging their critical faculties. The few naysayers out there have pointed to a dynamic that doesn't get talked about much. Miners rely, to a large degree, on China's appetite for growth and they have invested heavily to satisfy it. Many of those projects are only now coming on stream, just as China's growth is not only cooling, but moving into a different phase. As things stand, most people expect this merger to get done. But the greatest unknown factor is the casting vote of Qatar Holdings, whose silence so far speaks volumes. Qatar liked Xstrata as a stand-alone company but has shown less enthusiasm for Glenstrata. Norges Bank, Xstrata's third-largest investor, is also thought to be ready to sell out because it does not want Glencore shares. Since Glencore floated its shares have declined by 37%, worse than the 32.5% fall seen at Xstrata. Those of a risk-averse persuasion may not see why that sort of performance offers a better bet than Xstrata, Midas says.

AB

Please note: Digital Look provides a round-up of news, tips and information that is impacting share prices and the market. Digital Look cannot take any responsibility for information provided by third parties. This is for your general information only as not intended to be relied upon by users in making an investment decision or any other decision. Please obtain a copy of the relevant publication and carry out your own research before considering acting on any of this information.