Market Buzz
Sunday share tips: Next, T Clarke
Sun, 20 August 2017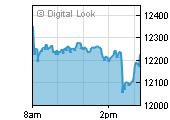 Price: 5,000.00
Chg: 27.00
Chg %: 0.54%
Date: 16:10
FTSE 100 Quote
Price: 7,273.95 Chg: 20.67 Chg %: 0.28% Date: 16:10
(ShareCast News) - In the Sunday Times' Inside The City column, Sabah Meddings looks at Next - one of the stalwarts of British high street fashion - and notes its recent attempts to keep customers coming in, from the addition of coffee shops and the upcoming installation of prosecco bars and nail salons.
But Meddings questions not only whether Next has been keeping up with the latest fashions - she also asks if the apparel behemoth has invested enough in its online offer, and whether the new in-store gimmicks are simply a cover for "the fact that its sprawling store estate has become a millstone".

Next is unique in that it is still expanding at a time when many of its rivals - including Marks & Spencer and Debenhams - are downsizing, with the chain having 543 stores at last count, and recently announcing plans for a 75,000 square foot megastore at Merry Hill near Birmingham.

The firm posted a hugely disappointing set of results in January, leading to a near-billion pound markdown in its value in a single day, with its stock down just about 16% since the beginning of the year.

Meddings pointed out that there was a spot of relief at the beginning of August, with warmer weather leading to a 0.7% improvement in quarterly sales through July, compared to City expectations for a 2.8% decrease.

But the devil is in the detail, with online sales up 11.4% and while in-store sales dropped 7.4%, reflecting a trend over the past decade, in which in-store revenues have increased 2% while floor space has surged 71%.

The company has a free cash flow yield of around 8% and has made commitments to quarterly 45p dividends, Meddings noted, adding that any attempts to overhaul the business would hit the shareholder rewards.

Its Directory business was another sore point, with sales sliding as access to consumer credit becomes easier, and its once-shining ecommerce operation being caught up to by its rivals.

"Next must streamline its rambling store estate, invest more in online, and sharpen up its fashions," Meddings wrote.

"Until then, it's likely to be a rocky ride. Avoid."

Over in the Mail on Sunday, Joanne Hart was looking at electrical and lighting specialist T Clarke for the Midas column, noting the firm's roots in some of London's earliest electric lighting projects and its prominence today, refitting spaces such as Selfridge's on Oxford Street.

Hart said despite the firm's well-documented history and its supposed high-quality reputation, its shares were undervalued at 76.5p, and should go higher in the "coming months and years".

T Clarke currently employs around 1,400 staff, with 150 apprentices who are expected to remain with the firm for a long period - something Hart notes was once common among British firms, but is today a rarity.

The company also relies on existing relationships for around 90% of its business, which Hart says gives the company a "certain resilience".

Looking at the numbers, its strategy appeared to be paying off - revenues were up 17% to £143m in the six months to 30 June, while profits improved 8% to £2.5m and the board raised the interim dividend by 20% to 0.6p.

T Clarke's forward order book was also looking healthy, rising 23% in the period to £392m - the highest recorded amount in the company's long history.

"[The company] has been in business since Queen Victoria was on the throne," Hart wrote.

"The group was innovative back then and it remains to this day.

"At 76.5p, the shares seem too cheap and the dividend is a further attraction. Buy."