Market Buzz
Sunday share tips: Residential Secure Income, SIG
Sun, 02 July 2017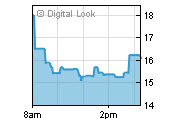 Price: 173.90
Chg: -5.00
Chg %: -2.79%
Date: 16:49
FTSE 250 Quote
Price: 19,418.33 Chg: -122.44 Chg %: -0.63% Date: 17:09
(ShareCast News) - The Mail on Sunday's Midas column recommends investors buy into Residential Secure Income's shares when they float in two weeks' time.




ReSI, which provides financing to housing associations, is due to list on the LSE on 12 July and the shares are a "long-term buy", the tipster said.

Although some observers believe a correction in the housing market is overdue, there continues to be little sign that enough homes are being built to satisfy demand, according to Midas.

The company intends to invest in a broad swathe of the market, purchasing homes from associations and thus freeing up funds so that they can spend on new ones.

They will then lease them back to the associations, who will continue to manage them, at roughly 4% of their value.

ReSI's management hopes to triple the size of its business over the course of the next three years.

Total returns, including capital growth, of about 8% per year are being targeted.

With the firm targeting a 3p dividend in its first year, with a maiden payment set to be made in last quarter of 2017, rising to 5p from October 2018 onwards, the shares offer decent returns, Midas said.



Current conditions are from ideal for restructuring a £2.9bn insulation company, but SIG's new chief has an enviable track record doing just that, making the shares a 'buy' for the Sunday Times's John Collingridge.

Meinie Oldersma, the new boss at the building products company, had already turned around 12 distributors in the past.

Oldersma was also said to reckon that doing the same with Sheffield-based SIG would be relatively simple, Collingridge said.

His new finance chief, Nick Maddock is also an experienced set of hands in the sector, having previously served as chief financial officer at McCarthy &Stone.

SIG's new boss is aiming to slash debt but should avoid a rights issue, focusing instead on cash generation, costs and working capital.

In parallel, some assets will get hived off, acquisitions will be halted and the dividend will be slashed.

Worth noting, in the past Oldersma has also proven adept at selling companies, such as Brammer.

Buy, says Collingridge in his Inside the City column.