Market Buzz
Sunday share tips: SSE, BP, Shell, Capita
Sun, 29 January 2017
Article viewed 1776 times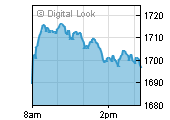 Price: 1,415.00
Chg: 8.00
Chg %: 0.57%
Date: 14:20
FTSE 100 Quote
Price: 7,277.19 Chg: 23.91 Chg %: 0.33% Date: 14:20
(ShareCast News) - SSE shares are a 'buy' for the Inside the City column in the Sunday Times.
The main worry is that wholesale energy prices have risen but with consumer spending about to decline, with regulators and the Prime Minister warning major energy companies not to pass on their costs. Analysts at Barclays estimated that SSE and its five big rivals, due to their hedging, bear only about £10 of extra cost per household from the wholesale spike, compared to more than £140 for small suppliers.

While SSE has undertaken not to raise prices till the spring, the big six are predicted to find it impossible to resist a hike. Shareholders are already looking at a 6% drop since October, with falling bond prices weighing. However, its whopping 6% dividend yield offsets these other concerns.

Midas in the Mail on Sunday cast its eye over the highest yielding stocks of the FTSE 100, not explicitly recommending the shares but noting that an investment would have gained by 15% in the past six months alone even before taking account of dividends. Barratt, Persimmon, Taylor Wimpey and Direct Line have remained in the top ten, joined in recent months by insurer Admiral, there aformentioned SSE, Vodafone and oil giants BP and Royal Dutch Shell, with the seemingly unlikely Capita making number 10.

Looking at a section of the stocks, BP and Shell declare their dividends in dollars and so for UK shareholders, the stronger the dollar the more pounds and pence they will receive in translation. Payouts from the pair for 2016, revealed in the next few weeks, are expected to be higher than the 2015 payments, putting both companies on a prospective yield of about 6.4%. Capita's shares have almost halved since July thanks to two profits warnings, with client contract delays in light of potential impact of Brexit. Chief executive Andy Parker has stressed the group will not cut its 2016 dividend, which are expected to be about 32p and meaning the shares yield 6.3%.