Market Buzz
Sunday share tips: Whitbread, Severfield, ConvaTec
Sun, 22 January 2017
Article viewed 1264 times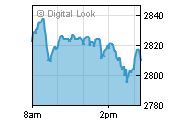 Price: 3,642.00
Chg: -22.00
Chg %: -0.60%
Date: 14:19
FTSE 100 Quote
Price: 7,277.19 Chg: 23.91 Chg %: 0.33% Date: 14:20
(ShareCast News) - Buy shares in Whitbread, suggests the Sunday Times' Inside the City column on the back of the potential tourism boost from the weak pound and a cost cutting drive. Data in recent months has confirmed that hotels in London, where the FTSE 100 group has dozens of its Premier Inns, have done particularly well post the Brexit vote.
Meanwhile chief executive Alison Brittain, who joined at the end of 2015 with a reputation for good cost cutting from her days as boss of Lloyds retail arm, announced her plan to slash £150m of costs through its supply chain, labour management and procurement divisions. Ahead of its quarterly trading update on Thursday, the shares "look cheap".

Shares in Severfield are worth buying, says Midas in the Mail on Sunday, as the structural steel company pans to double profits by the end of the decade and is growing its dividend and offers the potential for a special dividend too. Structural steel from its four plants is fabricated for construction of office buildings such as the Shard in London, warehouses, shopping malls, rail terminals, tunnels, bridges and power stations and sports stadia - including the redevelopment of Liverpool's Anfield, Wimbledon's Court Number One and Tottenham Hotspurs new White Hart Lane.

Chief executive Ian Lawson, who joined from Kier Group just over three years ago just before the company changed its name from Severfield-Rowen in 2014, has turned around what was a loss-making outfit and is forecast to lift profits by around a third to £18m in the year to March and to £20m next year, with a dividend of 1.7p this year hiked to 2.2p in 2018. As well as tapping into Philip Hammond's infrastructure drive, Brexit is expected to be positive for Severfieled with expansion into Europe planned as soft sterling enables competitive pricing, while the same factor means European rivals are less likely to bid for UK work.

In the Sunday Telegraph, Questor recommends ConvaTec as a 'buy', which at the end of the year was promoted to the FTSE 100 index with a market cap not far off £5bn. Leading the board as chairman is Sir Chris Gent, known as one of Vodafone's key director who transformed the UK mobile network into global giant, while private equity backers Avista and Nordic Capital, which bought ConvaTec from US pharmaceuticals giant Bristol-Myers Squibb in 2008, are still shareholders.

The maker of colostomy bags, dressings, catheters and surgical suction devices floated in October, making it the City's biggest newcomer in the healthcare sector for more than 20 years. Earlier this month it acquired Dutch ostomy systems rival Eurotec Beheer for €25m, with the London company's chief executive Paul Moraviec saying the acquisition would strengthen the company's ostomy business in France and the Benelux region, two areas he said were "important pillars of the growth strategy for our ostomy care franchise".

In December, with the shares at a similar price, UBS said the stock was a turnaround story and priced for only a one-third chance of management delivering on its investment plans, which seems too low.