The view from '52 part II: The seventies
Tue, 05 June 2012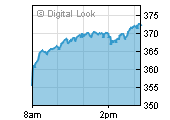 Price: 490.60
Chg: -0.90
Chg %: -0.18%
Date: 17:04
FTSE 100 Quote
Price: 7,516.17 Chg: -10.80 Chg %: -0.14% Date: 16:59
This is a continuation of part one of the article looking back at the changes in the constituents of the FT 30-share industrial index, the predecessor to the FTSE All-Share and FTSE 100 indices.

John Brown's body ...
By 1971 Britain's shipbuilding presence in the world was on the wane but still important enough to merit representation in the FT 30 in the form of John Brown, the celebrated Clydebank shipyard and engineering firm. John Brown took the place in the index of another engineer, Alfred Herbert, once Britain's largest machine tool builder.

At the same time Grand Metropolitan, the hotels firm which almost destroyed hundreds of years of British brewing tradition through the introduction of ghastly keg bitter through its Trueman and Watney brewery subsidiaries (Watney being replaced in the FT30 in 1972 by Allied Breweries when Grand Met took over the Red Barrel bitter maker), replaced Woolworth (F&W) in an event which quite possibly marked the beginning of Woolies' long, slow decline into irrelevancy.

(My spell-checker tried to amend the word "Watney" to "watery", by the way ...)

Hard though it is to believe, another stalwart of the High Street, Marks & Spencer did not enter the FT30 until October 1967, when it replaced House of Fraser, which was under siege from a company called Scottish Universal Investments, or SUITS. Suit you, sir, indeed.

Even more mind boggling is the thought of an index without BP, or British Petroleum as it once was, but the oil giant did not get the invitation to join the FT30 until 1977. It replaced Cavenham, the foods group formed by colourful entrepreneur James Goldsmith. Cavenham had joined the index in 1972 after taking over Allied Suppliers. The latter had started life as Home & Colonial Stores, an appropriate name for a company taken over by such an implacable opponent of the European Union as Jimmy Goldsmith.

In 1975, Lucas Industries, a major supplier to car manufacturers, took over British Leyland Motors' place in the FT30, while the latter awaited its latest rescue plan from the British government. Lucas was soon to run out of UK car manufacturers to sell to.

Given its long history and significant contribution to Britain's social and industrial evolution (along with that other great Quaker confectionery firm, Rowntree), it is, perhaps, surprising that Cadbury did not make it into the FT30 until 1978. It took the place of Spillers, which I always remember as the maker of Winalot dog food but which was also a big name in the bread baking business. The latter has never struck me as a good line of business to be in - it seems that whichever company owns any of the Rank, Hovis or McDougall flour/bread operations is forever doomed to struggle - and in 1979 Spillers was taken over by conglomerate Dalgety.

When I was growing up, EMI (Electric Musical Industries) billed itself as the biggest music company in the world, which seeing as it had the Beatles on its roster, is probably not all that surprising. That did not stop it from being taken over by light bulb maker Thorn, and Thorn EMI duly replaced EMI in the index in December 1979.

In 1982 John Brown's body gave up the ghost and exited the FT30, along with asbestos company Turner & Newall, which had expanded from that ill-starred line of business into the car components game. Taking their place were BICC - which I think stood for British Insulated Callender's Cables (so, probably a successor original FT 30 member Callender's cables) - and BTR, formerly known as British Tyre and Rubber and known today by one of those expensively made up meaningless names Invensys.

So, that's what Asda means ...
In 1983, United Drapery Stores (UDS) ended a 19-year stint in the FT 30 to make way for Associated Dairies, better known these days as Asda. UDS owned the Allders department store and John Collier clothing stores. In 1983, it was taken over by Hanson Trust, a company which specialised in taking over conglomerates and selling off the bits it did not want, which often seemed to be all of them. These days, we have private equity groups to do that sort of thing.

Demise of the FT 30
By 1984, the FTSE 100 had come along and it almost immediately supplanted the FT 30 in significance. For a while, newscasters used to quote both indices in the news bulletins, but soon the FT 30 got forgotten about, and came to be regarded as a bit old fashioned and not as representative of UK plc.

Perhaps that was the case back in 1984 but now, I am not so sure that still holds true. Yes, the FTSE 100 covers far more companies than the FT 30, but it allows for several from each sector, and makes no attempt to cover all sectors.

Consequently, some sectors seem to have a disproportionate weighting in the index, with the usual example being mining - which has several heavily weighted constituent companies which may be listed on the London Stock Exchange (LSE) but which are about as British as tortillas and borscht.

The FTSE 100 is self-populating, by which I mean that pretty much any LSE company which becomes valuable enough makes it into the index (there are some restrictions regarding free float - how much of a company's issued share capital is freely available to be traded, but otherwise, it is a case of 'big is beautiful') and by the same token, companies which are going through a bad spell, will spend time in the lower-ranked indices. Both Tate & Lyle and GKN, the only ever-present members of the FT 30, are both in the FTSE 100 but both have spent time outside of the top-share index.

While the components of the FT 30 chasnge whenever the committee feel it is no longer representative of the UK economy, the FTSE 100 is reshuffled every quarter, leaving it susceptible to (relatively) short term fads, whether it be dot.com bubble, commodities boom or banking collapse.

Be that as it may, if it is an index that is representative of UK plc you want, the consensus seems to be that the FTSE All Share is the index for you. No one seems to care about the FT 30 any more, except maybe statisticians testing out investment strategies going back to pre-World War II.

That might explain why I can find the value of the FT 30 for June 1952 easily enough (115.4) but getting hold of the latest value of the FT 30 is like trying to get the Queen's mobile phone number - assuming she has one.