International
Trading in Brazilian stocks headed for rocky start, real crushed
Thu, 18 May 2017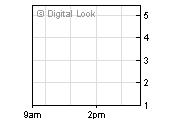 Price: 2.84
Chg: 0.02
Chg %: 0.85%
Date:
IBEX 35 Quote
Price: 10,305.00 Chg: 8.00 Chg %: 0.08% Date:
(ShareCast News) - Capital markets in Brazil were sent into a tailspin by allegations that president Michel Temer had sanctioned paying bribes to the main architect of ex-president Dilma Rousseff's ouster.


Trading in Brazilian shares appears headed for a rocky start on Thursday after opposition lawmakers called for the resignation of president Michel Temer.

According to daily O Globo, a secret recording showed Temer authorising a payment to Eduardo Cunha.

The news sent the US dollar rocketing by 7.20% to 3.37 against Brazil's currency unit, the real, as of 1236 BST, after triggering circuit breakers.

In parallel, futures on Brazil's Bovespa equity benchmark dived 10%, alongside a 60 basis point increase in the country"s five-year default swaps.

Ripples from the gyrations in Brazil were felt as far as Spain, where shares of Corporacion Mapfre, Santander and Telefonica all came under selling pressure due to their exposure to South America's largest economy.

Later in the day, at 1424 BST, the US dollar rocketed 7.20% to 3.37 against Brazil's currency unit, the real.