Market Buzz
Wednesday tips round up: GKN, Elementis, AZ Electronic Materials...
Wed, 29 February 2012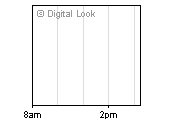 Price: 319.10
Chg: -1.60
Chg %: -0.50%
Date: 16:59
FTSE 100 Quote
Price: 7,387.87 Chg: -45.16 Chg %: -0.61% Date: 16:54
Tempus in the Times takes off with aerospace and automobile engineering firm GKN. It announced a decent full year result for its automotive division yesterday and may bid for Volvo's aerospace components business. With a share price of just nine times forward earnings Tempus thinks there may be value for patient investors. Buy.

Elementis, the chemicals company with a niche hectorite mine in California, released strong full year figures yesterday and currently stands at around ten times earnings. With lots of money in the bank Tempus thinks the stock could be a speculative cash play.

Tempus also computes the numbers on chip component maker AZ Electronic Materials which dropped yesterday following news of a customer bankruptcy.The shares sit at around 13 times 2012 earnings, not bad for the industry but leave for now says Tempus.

Questor, in the Telegraph, continues to bang the drum for its tip of the year, Petra Diamonds, which claims it will hit production of 2m carats by the end of its full year. With no new diamond resources having been found since the early 90s Questor thinks the business case for Petra is very strong. The company trades at 18.3 times 2012 earnings but that falls to 9.4 times next year. Buy.

BS

Please note: Digital Look provides a round-up of news, tips and information that is impacting share prices and the market. Digital Look cannot take any responsibility for information provided by third parties. This is for your general information only as not intended to be relied upon by users in making an investment decision or any other decision. Please obtain a copy of the relevant publication and carry out your own research before considering acting on any of this information.