Baidu Inc. dividends Share Price. BIDU Share Price. Baidu Inc. Stock Quote. Baidu Inc. Charts.
BAIDU INC. QUOTE
Baidu Inc. (BIDU)
197.05
Chg.%: -0.8054% Chg.: -1.6000 Time: 17:44
Annual Report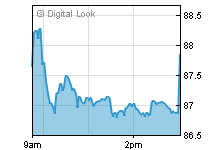 ► Dividends
No data Available
► Star Ratings
No data Available
► What The Brokers Say
Strong Buy
15.00
Buy
1.00
Neutral
16.00
Sell
1.00
Strong Sell
1.00
Total
34
Broker recommendations should not be taken as investment advice, and are provided by the authorised brokers listed on this page.